RENOMIA SRBA awarded as the Best Corporate Business Broker in Romania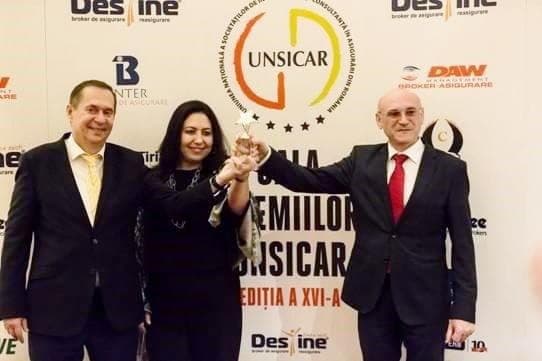 RENOMIA SRBA receives "Corporate Broker Services Quality Trophy" at the UNSICAR (Romanian Association of Insurance Brokers) gala event. The trophy is awarded through a confidential voting of major insurance companies on the market. RENOMIA SRBA provides high quality corporate insurance and risk management services to hundreds of local as well as international large and medium size companies from different sectors.
"On behalf of all my colleagues, I am very happy for this award. We have built strong teams, coordinated by experienced professionals, and that's what makes our services excellent. We understand this award as an appreciation of the dedicated work for our clients. It is even more encouraging when our key partners, insurance companies, recognized this and awarded us" said Gheorghe Grad, CEO of RENOMIA SRBA.
Pavel Nepala, Managing Partner responsible for International Development in RENOMIA GROUP adds "Congratulation to our colleagues in Romania. We are very proud what they achieved. We see their expertise, values and effort in every day service on behalf of our clients."
RENOMIA SRBA provides to its clients full range of corporates services based on proactive client approach including risk management, claims settlement and employee benefits programs. At the same time thanks to the well-developed network of branches and partners we service tens of thousands retail clients across the country. It is always our aim to look for the best solution in the market supported by our specialists´ strong expertise in many sectors and industries. RENOMIA SRBA also manages hundreds of international insurance programs thanks to the long term partnership with leading international brokers and broker networks.