Cinnamon and almonds are quintessential for German Christmas
"As the year draws to a close, we usually reflect on the importance of our relationships with friends, family, extended family, business partners and supporters. Realizing that I am working with friends with whom we have built a trustful relationship puts a smile on my face. Thank you for another year of good cooperation and I hope you end this year with some well-deserved, meaningful and joyful time with your loved ones."
Katja recommends this easy recipe for Zimtsterne (Cinnamon Stars).
Katja Makedanz, Head of International -
MRH Trowe Insurance Brokers GmbH
These cookies originally come from Swabia in Southwest Germany. In the 1600s, cinnamon was a very expensive and rare spice in Europe. Both cinnamon and almonds had to be imported, therefore they were considered as a food for royalty. This explains why almonds and cinnamon are especially associated with once-a-year festivals such as Christmas. Katja serves her Zimtsterne with big pitchers of mulled wine or hot chocolate for kids.
Ingredients: 1 1/2 cups raw almonds, 1 1/2 cups powdered sugar, plus more for dusting, 1 1/2 teaspoons ground cinnamon, 1 teaspoon finely grated lemon zest, 2 large egg whites,1/8 teaspoon kosher salt, 1 teaspoon water
The full recipe can be found here:
https://www.marthastewart.com/1524351/cinnamon-star-cookies-zimtsterne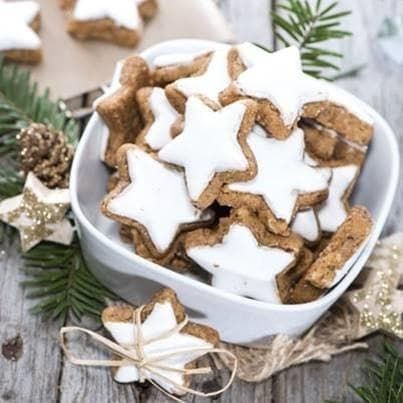 Instructions
In a food processor, pulse almonds with 1/2 cup powdered sugar until finely ground, about 1 minute (do not grind into a paste). Add cinnamon and zest, and pulse twice.
In a separate bowl, whisk the egg whites and salt with an electric mixer at medium speed until stiff peaks form. Gradually whisk in the remaining 1 cup of powdered sugar. Continue to whisk until the meringue is glossy and stiff, but not dry, 15 to 20 minutes. Transfer 1/3 cup meringue to a small bowl. Add the remaining meringue to the mixture in the processor, and pulse just until the dough comes together. Place the dough on parchment lightly dusted with powdered sugar; pat into a disk, and chill 30 minutes.
Preheat the oven to 300 degrees, with racks in the middle and upper thirds. Dust the top of the dough lightly with powdered sugar, cover with parchment, and roll to a 1/4-inch thickness. Cut the dough using a 1 1/2-inch star-shaped cutter and transfer to the parchment-lined baking sheets. Dip the cutter into powdered sugar frequently to prevent the dough from sticking. Reroll the scraps and cut more shapes.
Stir water into the reserved meringue; brush the mixture generously over the tops of the stars using a small paintbrush. Bake, rotating the sheets halfway through, until firm when gently pressed, but not hard and dry, 10 to 12 minutes. Let the cookies cool completely on sheets on wire racks. The cookies can be stored in an airtight container at room temperature up to 1 week.