Bûche de Noël and riding her horse Twist is a Christmas "must have" for Cecile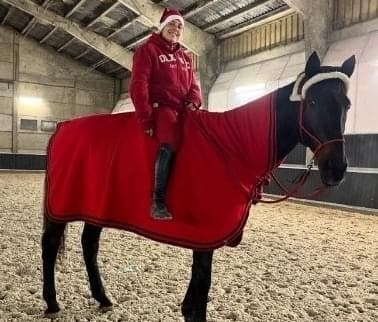 "The best wish we can present this year is to share joyful moment with your loved ones."
Chocolate Bûche de Noël (Yule Log) Cake was invented during the late 1800s by a French pastry chef. The yule log cake, or bûche de Noël, is now a Christmas holiday tradition. The name originated from the appearance of the cake – resembling the surface of the tree. The cake is layered with buttercream and shaped into a log before decorating. Once you try it, you will fall in love.
International Director of Verspieren and Vice-CEO of Verspieren International Cecile Gauer and her horse Twist
Ingredients
For the cake:
6 large eggs, separated, 1/2 c. all-purpose flour, 1/4 c. unsweetened cocoa powder, 3/4 c. granulated sugar, divided, 1/4 tsp., kosher salt, powdered sugar for sprinkling
For the filling:
1 1/4 c. heavy cream, 1/4 c. powdered sugar, 2 tsp. gelatin (optional), 1 tsp. pure vanilla extract, pinch of kosher salt
For the frosting and decoration: (Cecile recommends to use your fantasy)
1/2 c. (1 stick) butter, softened, 1 1/2 c. powdered sugar, plus more for garnish, 5 tbsp. cocoa powder, 1 tsp. pure vanilla extract, 3 tbsp. heavy cream, pinch of kosher salt, chocolate curls for garnish, cranberries for garnish, small rosemary sprigs for garnish
The full recipe can be found here:
https://www.delish.com/cooking/recipe-ideas/a24276998/buche-de-noel-yule-log-cake-recipe/
Directions
Preheat the oven to 375 degrees F (190 degrees C). Line a 10x15 inch jellyroll pan with parchment paper. In a large bowl, whip cream, 1/2 cup powdered sugar, 1/2 cup cocoa, and 1 teaspoon vanilla until thick and stiff. Refrigerate.
In a large bowl, use an electric mixer to beat egg yolks with 1/2 cup sugar until thick and pale. Blend in 1/3 cup cocoa, 1 1/2 teaspoons vanilla, and salt. In a large glass bowl, using clean beaters, whip the egg whites to soft peaks. Gradually add 1/4 cup sugar and beat until the whites form stiff peaks. Immediately pour the yolk mixture into the whites. Spread the batter evenly into the prepared pan.
Bake for 12 to 15 minutes in the preheated oven, or until the cake springs back when lightly touched. Dust a clean dishtowel with powdered sugar. Run a knife around the edge of the pan and place the warm cake out onto the towel. Remove and discard parchment paper. Starting at the short edge of the cake, roll the cake up with the towel. Let it cool for 30 minutes.
Unroll the cake and spread the filling to within 1 inch of the edge. Roll the cake up with the filling inside. Place seam side down onto a serving plate and refrigerate until serving. Dust with powdered sugar before serving.